Geek of the Week - The Garcia Family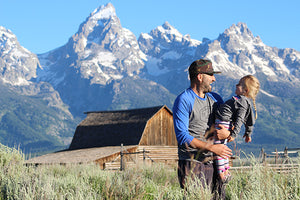 We would like to introduce you this week's Geek of the Week - The Garcia Family; Brittany, Nick, and Izzy. They spend most of their time on the road living a life full of adventure and new discoveries.
The Garcia Family has been living the "nomad" life for over 2 years and truly believe they are living the #goals lifestyle! While Brittany takes on different assignments as a travel nurse, Nick plans epic camping trips and road trips while taking care of their 3-year-old daughter Izzy.
How did you become a National Park Geek?
Our National Park Geekdom started July 2016 after we visited the breathtaking Grand Canyon. We instantly fell in love with the idea of visiting as many National Parks as we could while on our new traveling adventure. We are now coming up on needing to purchase our 3rd America The Beautiful Pass and have yet to be disappointed with our decision to purchase/renew our membership.
How many parks sites have you visited?
As a family, we have visited 17 National Parks and over 50 National Monuments/Sea Shores/Forests and counting. 
Do you have a few favorites you recommend to everyone? 
Our family favorite is hands down Olympic! It is has EVERYTHING any outdoor explorer could ask for. Whether you are looking for a beautiful coastline, lush rain forests, or scenic mountain ranges, Olympic National Park has it all. We have to say though, the PNW has so many opportunities for great outdoor adventures that you can't go wrong with any park in the region.
What's your favorite park activity?
Camping! We have really enjoyed this simpler and more cost effective alternative to staying in hotels. One thing we have noticed and really appreciate is the maintenance and amenities being provided at the parks we have visited. They do a phenomenal job making sure your experience in the park is top notch. 
How do the parks feed your spirit? 
As a family that is constantly on the move, we feel like we are always rushing to fit in as much as we can in each new city we visit. However, upon entering a new park, we always like to slow things down and explore at our leisure. This seems to help rejuvenate both our bodies and our minds. 
Do you have any favorite things you always look for as souvenirs? IE: patch, magnet, passport stamp, etc. 
As we are constantly on the road, space saving is a huge priority for us so collecting cool souvenirs wasn't initially in the cards for us, however, we recently invested in a Yakima Rocketbox and decided to order stickers from each park we have visited. Definitely adds a little flare and character to the cargo box. In addition to the stickers, we also take at least one photo of our daughter at each park. 
What is or are your favorite park memories? 
One of our favorite park memories was from our trip through Zion & Bryce Canyon National Parks. We were on our first 24+ hour road trip from our home base of North Texas to Southern California. Day 1 in Zion, we met this awesome family on a hike and spent the rest of the day/night with them. Although we didn't initially have Bryce Canyon on our road trip itinerary, they convinced us to backtrack just a little bit and join them the following day. This ended up being such an amazing decision as we spent the next day hiking through the incredibly unique hoodoos on a snowy 20-degree day. Even with the weather being as it was, it added to the overall experience and will be a memory we will remember for a very long time.
What park(s) are next on your bucket list? 
We would really love to spend some time in the South Florida parks, especially the Everglades. We love seeing alligators (from afar of course) and think it would be such a unique opportunity to see them in the wild rather than confined behind walls at the zoo.
What should we all be doing to help preserve and protect our parks? 
Leave No Trace is something we immediately took to heart when we began our National Park travels. It's such an easy concept to comprehend and simple to follow. These national parks were designated as such for the enjoyment of Everyone, and adhering to Leave No Trace is the simplest way everyone can contribute to the preservation of these extraordinary pieces of land. 
When not in the parks, what's your profession? 
Brittany is a Pediatric Intensive Care Travel Nurse while Nick is a stay at home dad. Izzy is a princess 🤣
How do you plan and make your park adventures happen? 
Depending on where the next assignment is, we try to stop at as many parks as we can on our road trips, as well as visit as many local parks as we can once we arrive at our new home base. We have an EPIC cross-country road trip planned this summer that will take us through 15 states, and allow us to visit 6 different National Parks! We don't mind if a park takes us a little out of the way because we never know when we may have another opportunity to revisit a certain region of the country. 
If you could be a park ranger, where and what would you be doing?
Nick has a Masters degree in recreation management and ponders this question often. It seems to change after we visit another new park. If he had to pick one, it'd probably be Zion. He loves the vibe of southern Utah and proximity to both snow and desert. He would 100% want to be a photographer for the park. 
So many thanks to the Garcia's for sharing their story and adventures. You can follow along on their travels on Instagram @goinggoinggonegarcias
---
Also in News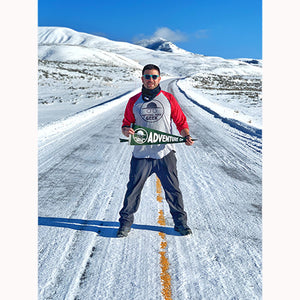 Chris Rief, Our Newest NP Geek Ambassador.