Geek of the Week - Mandy and Katie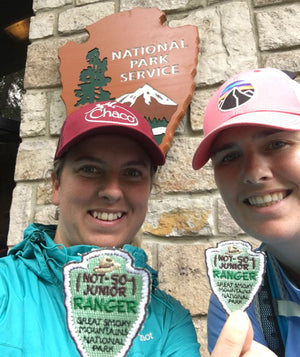 We would like to introduce our latest Geek of Week. Well, this time it's Geeks. Mandy and Katie make up the @notsojrrangers They love getting out and exploring National Park sites and sharing the fun found along the way.


How did you become a NP Geek?
We took a spring break trip to Arches NP in 2016 and caught the Find Your Park fever. Both of us bought an NPS Passport on that trip and became obsessed with filling them up with stamps. We started planning a summer road trip to visit parks almost immediately afterward.


We became familiar with National Park Geek shortly after starting our page last year and love the community of fellow geeks that we've found as a result.


How many parks sites have you visited?
We have 62 site-specific Junior Ranger badges. We have been to a few more sites, but those visits were before we became super involved in our quest to experience all of the parks. We don't really count those in our number.


Do you have a few favorites you recommend to everyone?
Katie: Yosemite was the first site that really took my breath away with the natural beauty of viewing Half Dome from the valley. I also enjoy Yellowstone because it is cool to be where it all started. Rushmore is also neat once you learn about how it was carved out. It's impressive to look at what they were able to accomplish during that time period.


Mandy: Olympic is incredible because of the diversity. You're really getting three parks in one with that site. Where else can you get mountains, a rainforest, and the beach? Tuskegee Airmen NHS, Martin Luther King, Jr. NHS, and Andersonville NHS all do a fantastic job of telling parts of our nation's history. I have to show love to Congaree NP. It's one of our smaller National Parks, but it has a great boardwalk trail and a wonderful conservation story.


What's your favorite park activity?
WE LOVE THE JUNIOR RANGER PROGRAM!! We helped my (Mandy's) niece do it at Great Smoky Mountains NP and were really impressed with what you could learn. We saw a guy our age doing it at Congaree a few months later and earned our first badge the next day. We're aiming to earn a badge at every site that offers the program.
  
We usually go on a hike when visiting National Parks. The views are always worth the burning muscles!
   
Both of us have come to appreciate ranger-led programs a lot more since we started doing the Junior Ranger program. We recommend trying one out.
How do the parks feed your spirit?
Katie: I always leave the National Parks feeling recharged. It's a break from reality.
Mandy: They help me realize where I stand in the bigger picture. It is a privilege and honor to sit and take in the sunrise over the Grand Canyon or sunset over Lake Crescent in Olympic. You can't help but realize how small you are in those moments, but you're a small part of something big and beautiful.


Do you have any favorite things you always look for? IE: patch, magnet, passport stamp, etc.
No part of the gift shop is safe when we enter. Katie collects ornaments. I have the Find Your Parks pins from most of the sites. Every magnetic surface in the house is covered with magnets and postcards. As mentioned earlier, we're all about the passport stamps!


What is or are your favorite park memories?
Katie: All of the sunrises/sunsets have been special. Eating lunch with the presidents at Mount Rushmore is always a treat. We don't get a lot of snow in Georgia, so snowball fights at Rainier and Olympic are always fun.
Mandy: I've been lucky enough to bring my mom, niece, and younger sister on trips. I've loved watching my mom stare out at Yosemite Valley in awe like a little kid, my niece take off down trails, and my younger sister laughing under the spray of a waterfall at Rainier. It has been really cool to take my students on trips to National Park sites over the last year and watch them stand in awe of their surroundings.


What park(s) are next on your bucket list?
We're hitting the road this summer and are really excited to explore more of Arizona, Colorado, and California. We're planning on visiting Brown V. Board of Education to start the trip, which means a lot to us as teachers. We're kind of hoping to finish off Georgia before the summer. We just have the coastal sites left.


What should we all be doing to help preserve and protect our parks?
Educating and advocating. There are so many people who have no idea what the parks are all about. We have to guide others towards that understanding with our own passion and actions.


What do you hope the future of our NPS looks like?
We have seen a lot of kids doing awesome things to promote the parks. They give us hope. We also see it in the NP Geek community. Future generations deserve clean and preserved wilderness to explore, and we have the power to make that happen.

We would love to see more historic sites pop up because there are stories that need to be told.


When not in the parks, what's your profession?
We're both teachers. Katie teaches middle school science. I (Mandy) teach K-8 PE.


How do you plan and make your park adventures happen?
There are lots of giant Post-it notes and cups of coffee involved in the process. We usually start with the map that came with our passports and start looking at possible destinations and/or routes to get bang for our buck. After picking locations, we consult travel books, social media (blogs, Instagram), the Passport to Your National Parks app, and/or other travelers to decide what we want to do at each site.


If you could be a park ranger, where and what would you be doing?
Katie: I'd like to be an interpretive ranger at Yellowstone, Arches, or Yosemite.
Mandy: I would like to lead hikes or paddling tours or work with Junior Rangers at Olympic NP.


Both of us would love a job with the parks that would help us connect more teachers with park sites as educational resources.


Do you want to give a shout out to any favorite park lovers?
@juniorrangersethandryan, @nationalparkstuff, @thebucketlisttraveler, and @aleahsadventures have pretty much been with us since we started the page. We're lucky to have them in our community of NPS lovers.
Linda, Aleah, Tigran @juniorrangertigran, and Sandra @nationalparkpatchlady shared their park stories for a video that I did for my students. These guys are beautiful people and wonderful stewards.
As teachers, we're so proud of Ethan, Ryan, Aleah, @rileyrecommends, and @jrrangeraudrey just to name a few. These kids are park stars!
Fredda @innerrichie is one of our biggest cheerleaders. She even found us on the webcam at Olympic. Joe @nedza.not.nedza started off serving us delicious waffles and has become one our favorite people to talk parks with.


Many thanks to Mandy and Katie for sharing and inspiring us to adventure on!
---
Also in News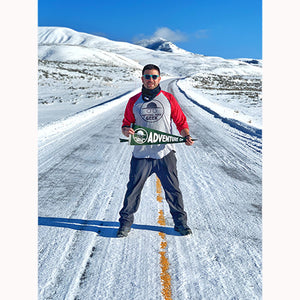 Chris Rief, Our Newest NP Geek Ambassador.