Geek of The Week - Emily Hart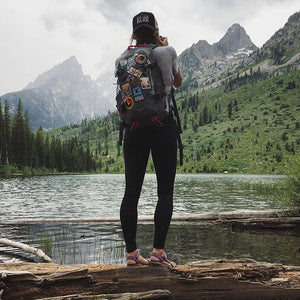 Our newest Geek of the Week feature is about Emily Hart's story of exploring our National Parks and taking in the beauty of nature. Emily comes from the Denver, CO area and adventures out as much as she can. Read on and enjoy her beautiful photos and adventures.
How did you become a National Park Geek?
I grew up hearing stories about my great-uncle (also a math teacher like I am) traveling in the summers and schools breaks to public lands -- in particular the Grand Canyon. I had been feeling like I needed to do something more with my life outside of the classroom, so I planned a road trip to the Grand Canyon and through the Southwest for spring break three years ago. Once I got on the road I knew it was for me. When I finally hit the Grand Canyon all the pieces came together. I knew that this was my thing. After that I just kept visiting more -- solo -- but didn't make a goal of visiting all 59 until after I had been to around 12. I decided that if I had been to that many on my own I could visit the rest as well. So it became a quest.
How many parks site have you visited?
I have only been keeping track of National Parks, not other NP sites -- and I have been to 36 in the US. (5 in canada)
Do you have a few favorites you recommend to everyone?
I love Grand Teton. I have been several times and I just feel like it checks all the boxes for me. Mountains, water, wildlife, a beach, cool lodges -- it has it all. The landscape is so dramatic, it's fairly easy to get to, and has interesting things around it (Jackson Hole, Yellowstone etc)
As far as desert parks, I really loved Capitol Reef. It is the least visited of the Utah parks, and it somewhat underrated, but that just meant it was much less crowded -- not less beautiful or interesting. There is so much history, pick your own fruit orchards, and plenty of the beautiful rock formations you'd expect from a Utah park.
What's your favorite park activity?
I like to hike, but nothing super extreme -- I like to be able to see as much of the park as possible. I explore and let the road and trail take me wherever feels right. I love to take photos, visit the lodges or historic areas, and people watch. :)
How do the parks feed your spirit?
I travel to the parks alone, and view it as a time to rejuvenate my mind and body. The stillness in the wide open spaces provides a clarity of thought that I don't get anywhere else. The lack of cell phone service, outside distractions, and (usually) other people give me the space I need to think, but also to just be present in the moment. It is a very mindful experience for me, as I have no one else to talk to or to distract me from the things around me. My senses are heightened and the experience takes on a whole different level of meaning.
Do you have any favorite things you always look for as souvenirs? IE: patch, magnet, passport stamp, etc.
I always buy a magnet, a postcard (with the old WPA artwork if possible), and a patch. I have patches all over my day pack and it's a great way to start conversations. I always travel alone so it's a good way to meet people on the trail or in the bus when they see the other places I've been on my pack and ask me about them.
What is or are your favorite park memories?
It's hard to narrow it down. I have favorite memories of every trip! My first trip to the Grand Canyon was memorable because it was a whole new experience. A beginning. The first time I saw Yosemite valley was truly a jaw-dropping moment. Seeing the sunrise at Mesa Arch in Canyonlands. 
They're all beautiful memories. That's why I keep going!
 What park(s) are next on your bucket list?
I've recently visited Olympic and Mt. Rainier -- but I'd love to go back to Mt. Rainier in the summer. I'll also head up to the North Cascades and Crater Lake. I also need to get to Lassen soon, as it's the last California park I need to visit.
What should we all be doing to help preserve and protect our parks?
From a micro standpoint, I just wish more people were aware of basic LNT (Leave No Trace) principles.
plan ahead and prepare

travel and camp on durable surfaces

dispose of waste properly

leave what you find

minimize campfire impacts

respect wildlife

be considerate of other visitors.
It's upsetting to see people (especially at some of the bigger parks that have record amounts of visitors) leaving trash, walking in protected areas, taking things from the trail, and just generally not treating the space with respect.
What do hope the future of our NPS looks like?
I hope it stays protected and receives the funding that it needs to run smoothly. It's painfully obvious in some parks that there is simply not enough funding to keep it running at the standard that it needs to for the amount of visitors.
When not in the parks, what's your profession?
I am a math teacher! I've taught middle school (6-8th grade) math for 9 years. This year my classroom was called "Math Park" and was a part of "Ms. Hart's Math Service" :)
How do you plan and make your park adventures happen?
I group my trips together as much as possible. A lot of parks (especially in the West) are relatively close to each other and can be visited in a loop trip. For those that aren't driveable within my time frame, I keep tabs on flight prices to the largest cities near the parks I still need to visit, and if one comes up with a deal on the days I have available I book it! I try to always have a trip planned at any time to give me something to look forward to and anticipate.
I plan my day to day through the NPS website for the park, Pinterest (blogs), and Instagram posts within the park. I write a list for each place of my "must-dos" and "maybes" then create an itinerary by looking up driving distances and logistical concerns.
If you could be a park ranger, where and what would you be doing?
I'm always in awe of the Rangers at the fee booths. While that is probably the least interaction with the outdoors, they always seem to be so happy with their work that I am envious. I'd love to do that or lead educational family hikes at a place like Grand Teton or Glacier.
You can follow along on Emily's adventures at 
Website: www.emilyventures.com
Thank you to Emily for sharing her story. It is obvisous to see how spending time with nature is good for the mind and soul. Happy Trails Emily.
---
Also in News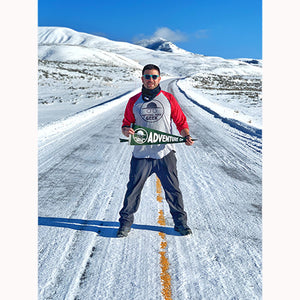 Chris Rief, Our Newest NP Geek Ambassador.